We are excited to announce a new store just added to 9malls. They are called Sharpspring. It's a top ranked marketing automation company. For a live demo visit Sharpspring directly.
What is marketing automation?
Marketing automation refers to software platforms that help businesses automate their marketing and sales engagement processes to generate more leads, convert those leads to sales and optimize ROI. Marketing automation allows businesses to automate repetitive tasks such as sending emails, maintaining social media, tracking website interactions and handling various other tasks. Marketing automation centralizes all of the features and functions that make up the marketer's role in an organization.
A marketing automation platform should have the ability to integrate with other sales and marketing tools (CMS, CRM, social media, meeting software and more) to provide a streamlined platform for data management and analysis.
What Does Marketing Automation Software Do?
Drive More Leads
Convert Those Leads into Sales
Maximize Marketing Spend.
See Comparison Graphic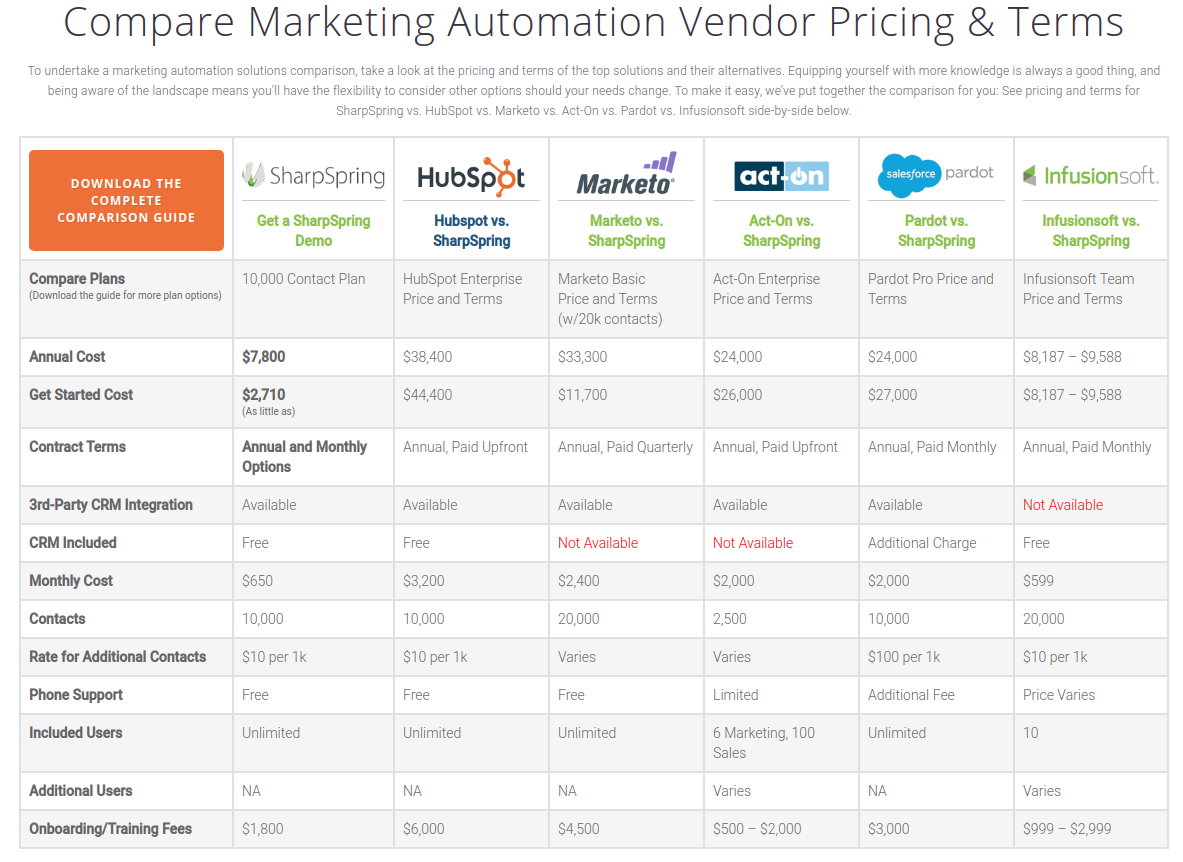 SharpSpring Feature List
Email – Put an end to boring, mass email blasts and save time on your marketing strategy. Start conversations that lead to conversions with personalized messages and automated campaigns that respond to user behavior. Use the SharpSpring email marketing platform to track leads "after the click." Unlike other email service providers, we offer detailed analytics on every interaction – so you can send the right message at the right time, and send your sales team into action with real-time notifications.
Forms – Build, customize and reorder fields effortlessly with the sleek drag-and-drop editor. Our dynamic forms autocomplete fields for known visitors to improve conversion and look great on any site with custom CSS. You can even map fields from 3rd-party and native forms.
Automation – Our powerful, easy-to-use visual workflow builder simplifies marketing automation. Use branching logic to engage leads at critical points in their unique buying journeys. Instantaneously sync information with our built-in marketing automation CRM suite. Set up buyer personas for your products and services, then assign leads to different personas so that you can send automatically targeted messages. Receive a list of each day's hottest leads right to your inbox, and act at just the right time to convert them to sales. Use SharpSpring's marketing automation tools to score leads based on engagement, page tracking, fit and more – they even factor in natural lead decay over time.
Visitor ID – VisitorID is one of the secret weapons in our stack of marketing automation tools. Use it to identify twice as many visitors to your site (compared to competing marketing platforms). Use behavioral-based tracking to truly understand what motivates each click. Identify pain points and successful strategies so that your website never stops optimizing. Receive a list of the day's hottest leads directly to your inbox, and act at just the right time to convert those leads to sales.
CRM – Knowledge is power – and CRM is sales. Use our marketing automation CRM or seamlessly integrate your preferred CRM provider with the SharpSpring marketing platform. Keep integrated data up to speed with instant two-way synchronization. Track opportunities from creation to close with a bird's eye view of your pipeline. Create custom deal stages, fields, filters and more, to manage sales effortlessly with our marketing automation tools.
Landing Pages – Build powerful landing pages and landing page funnels that transform visitors into leads. Use our simple point-and-click editor to create unique landing pages, or adapt a template from our extensive library. Set up chains of linked landing pages to organize visitors into different funnels. Drive more conversions with dynamic web content that changes based on visitors' interests and attributes. Deliver results quickly without coding or a developer, and without touching your website – but for those who want total control, you can add your own HTML and CSS code to customize pages even further.
Blogs – Launch a blog in minutes with the blog builder and editor in our marketing automation system. Design, manage and publish posts with ease. Set up collaborations within your team, or create profiles to welcome guest bloggers. Extend the reach of your content with RSS email syndication that automatically sends new posts to your mailing lists. Get more reach out of your content with social media widgets that allow users to share and follow you online. Use SharpSpring's marketing automation tools to track visitors, find out which content performs best, and target posts to maximize conversions.
Marketing Analytics – Make key decisions with accurate and relevant data. Choose the most important metrics for each campaign and message, then generate custom reports to review your performance. Understand end-to-end ROI and track lead sources – even from offline. Share key information with your team, clients, and customers in a readable and accessible display.
Platform – Connect to hundreds of third-party software providers with SharpSpring's APIs and Zapier integration. Sync data with your marketing automation CRM systems, keep your content management systems updated and integrate native and third party web forms with our marketing platform. Truly make SharpSpring your own by rebranding emails, notifications, reports, and even the app itself. Store data on our encrypted, secure, and scalable platform.
Social – Go beyond publishing, scheduling, and monitoring. Turn social interactions into meaningful conversations that generate sales and show up in your marketing reports. SharpSpring Social offers all the features you expect from a social management solution, plus powerful conversion tools you can only get from a fully-integrated marketing platform. Trigger automated workflows and score social leads based on interactions, sources, interests and more. Measure end-to-end ROI of integrated marketing campaigns and demonstrate the value of your social media efforts.